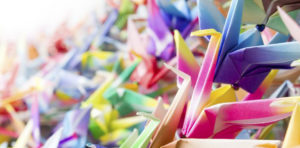 Since being founded in 1943, the National JACL Credit Union has supported the local and national JACL organization by sponsoring and participating in various events and conventions. As the Asian community has grown in the Salt Lake valley, the credit union has also participated in more community activities such as the Asian Festival, Asian Chamber of Commerce, Nikkei Center, Japanese in Utah Centennial and Nihon Matsuri. The membership has been expanded from just JACL members to include residents of Salt Lake County in order for the local community to use our services.
When the new building was purchased and remodeled in 2005, a community room was included in the plans. This room is available for meetings and activities for the community. The credit union also encourages and supports the employees' volunteer efforts for other organizations within the community.
Watch Heritage Video
This video premiered at the Nihon Matsuri (Utah Japanese Festival). It summarizes our history and the benefits of membership in National JACL Credit Union.