More and more consumers are using their mobile devices to send and receive payments. According to Samsung, "Turn your phone into your wallet. Don't change where you shop, just change the way you pay. You can even use Samsung Pay when your device's display is off."
More Secure
Combining your VISA and your Samsung device adds an entirely new level of security and convenience.
Instead of using your actual credit and debit card, Samsung Pay creates a unique Device Account Number, encrypting and securely storing it. That way sensitive information stays private. With Samsung Pay, in addition to NFC, it also uses a Magnetic Secure Transmission (MST) which uses a tiny coil that shoots out the same magnetic code that those readers normally get from your physical card.
How to Set Up Samsung Pay
Find the app pre-installed on your phone or download it off Google Pay. Then, sign into your Samsung account. Snap a picture of your National JACL VISA, and follow the instructions
You can get additional information at http://www.samsung.com/us/samsung-pay/
Any question? Give us a call at 801-424-5225 (or 1-800-544-8828) and we'll walk you through the process.
Compatible Devices
S6, S6 Edge, S6 Edge+, S6 Active, S7, S7 Edge, S7 Active or Note5
Which merchants are participating?
Samsung Pay is accepted almost anywhere you can swipe or tap your card.
How do I use Samsung Pay in participating stores?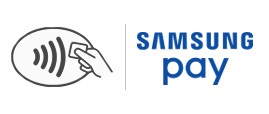 Swipe up from the home button. Or select the Samsung Pay app icon from your home screen or app tray.
Authorize payments by simply scanning your fingerprint.
Hover your phone over the in-store card reader